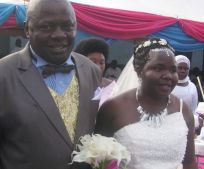 Family Spirit Child Care Centre was founded in 2002 by a group of people living with HIV/AIDS who were moved by the plight of children suffering after their parents died.
While the impact of death was felt across the whole extended family, children were most affected as they were left vulnerable, defenceless and often abandoned.
The Organisation provides a home to these vulnerable children. These include orphans that have no foster family; children that are victims of abuse and home violence; and children affected by war.
Family Spirit is now run by Nyakoojo R. Isaac and Angamita Susan.
Newly wed on the photo